Northern Rivers Short Film Competition
presented by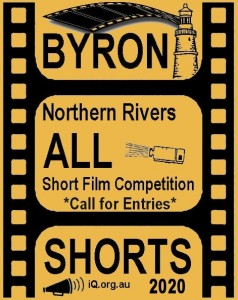 Sat 1st Feb: Byron All Shorts Finalists – door 3pm | films 4pm
Sat 1st Feb: Byron All Shorts Awards – door 7pm | awards 8pm
(Prior to Flickerfest's Short Laughs Comedy programme)
Mullum Civic Hall – Full INFO: Mullum Flickerfest & Byron All Shorts 2020 (event details & programmes here)
Byron All Shorts will be held on Saturday 1st Feb 4pm, with the finalists from the Northern Rivers region hotly contesting for prizes that recognise excellence in short film making.
Last year these amazing local films screened to a capacity house at the Mullum Civic Hall.
The best of local shorts of the Northern Rivers will screen in the Byron All Shorts finalists programme Sat 1st Feb 4pm, alongside the best of Australia & the world at Flickerfest International Short Film Festival screenings on Thur 30th Jan, Fri 31st Jan & Sat 1st Feb, 2020.
The Byron All Shorts Awards are selected by the esteemed jury of local film makers & industry experts at the screening, & awards are announced Sat 1st Feb 8pm, just before the Flickerfest Comedy programme.
If you live in the Northern Rivers, or have produced a film in the Northern Rivers, or have made a film about the Northern Rivers you can enter Byron All Shorts.
Entries close: Fri 27th Dec 2019 (except for invited films) – download Byron All Shorts 2020 entry form here | call 0414 779 881 for enquiries.
Check out Last years Finalists & Awards here.