Northern Rivers Short Film Competition
presented by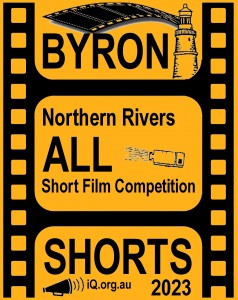 Byron All Shorts 2023 – Call for Entries Now Open – Deadline Extended!
Entries Deadline: Mon 16th Jan 2023
Download: Entry form here
Filmmaker Notification Date: Fri 27 Jan 2023

Now in it's 18th year, Byron All Shorts, celebrates the filmmaking talent of the Northern Rivers region and encourages audiences to experience the many amazing films & local stories that are produced here each year.
Filmmakers from across the region are invited to submit their short films of up to 30min in length, from all genres.
The best of local short films will screen in the Byron All Shorts finalists programme on Sat 18th Feb 4pm, with the finalists from the Northern Rivers region hotly contesting for prizes that recognise excellence in short filmmaking. Prizes & cash to the value of around $3k will be presented for the iQ-Flickerfest Best Short Film Award, the Emerging Talent Award & the Best Short Film Audience Award; recognising the incredible talent in our region.
Byron All Shorts competition is included in Bangalow Flickerfest's 3-day film festival event at Bangalow A&i Hall Thur 16th Feb to Sat 18th Feb 2023, which provides a platform to celebrate, encourage and support local filmmakers to produce and share their stories; alongside the best of shorts films for around the world. Byron All Shorts is a dedicated Northern Rivers short film competition, judged by a team of professional local Northern Rivers film industry members.
Flickerfest International Short Film Festival celebrates its 32nd year in 2023 and is Australia's only Oscar® Qualifying and BAFTA Qualifying short film festival. Since 1999, Flickerfest has been bringing its unique programmes of award-winning Australian and international shorts to the Byron region, hosted by iQ Inc. (program details coming soon @flickerfest)
iQ Inc is proud to have continued providing a dedicated screening platform for local filmmakers since 2006; and to be presenting an inspirational, world calibre experience for local filmmakers & audiences with the Flickerfest International Short Film Festival tour screenings since 1999.
If you live in the Northern Rivers, or have produced a film in the Northern Rivers, or have made a film about the Northern Rivers you can enter Byron All Shorts.
Entries Deadline: Mon 16th Jan 2023 – download Byron All Shorts 2023 entry form here | call 0414 779 881 for enquiries.
Byron All Shorts Finalists Screening: Sat 18th Feb – door 3pm | films 4pm
followed by the,
Byron All Shorts Awards: Sat 18th Feb – door 6.30pm | (30mims after the finalists screening)
Location: Bangalow A&i Hall – 3 Station St, Bangalow
Festival Partners:
Flickerfest, Avid Software, In Your Face Productions, Screenworks, Gage Roads Brew Co, Rosnay Organic Wines, Parkers Organic Juices.

Check out past years Finalists & Awards here.
View some of the past years Flickerfest & Byron All Shorts pics here.