FLiCKERFEST 2013
presented by Renault
22nd International Short Film Festival
Australia's only Academy®Accredited
& BAFTA recognised short film festival
Fri 25th – Sun 27th  January 2013
A&i Hall, Bangalow
Best Of International 1 on Friday 25th
(with Opening Party pre-screening drinks/nibbles & music, starts 7.30pm)
Best Of International 2 on Saturday 26th
Best Of Australian Shorts on Sunday 27th
Doors open: 7.30pm each night – Films start: 8.30pm
Running Time: (approx 100min each session)
All sessions are 15+ (Children under 15 to be accompanied by an adult)
Prices:
Friday: Best Of International 1 programme + Opening Night Party with Crystal Head vodka, Little Creatures beer & Pipsqueak cider, Rosnay organic wine & Phoenix drinks. $20/17 conc
Saturday: 'FlickerLab' or Byron All Shorts $10/8 conc (each) free entry for SAE students
Saturday: Best Of International 2 programme $15/12 conc
Sunday: Best Of Australian Shorts programme $15/12 conc
Festival Pass: $50/40 conc (includes 'FlickerLab' Concept to Market & Byron All Shorts programme – details below)
Tickets: Available at the door or,
Barebones Artspace (Bangalow-noBF) | Mullum Bookstore (noBF) | Planet Corroboree (Byron.+BF) | All Music and Vision (Ballina, Lismore.+BF)
FLICKERFEST 2013 – RIDE THE SHORT FILM WAVE WITH RENAULT 25th–27th January, A&I Hall Bangalow
Flickerfest rides the short film wave into the Northern Rivers from the 25th until the 27th January for it's 16th year screening a smorgasbord of shorts from the Byron Region, Australia and around the world over 3 jam-packed days at the A & i Hall Bangalow.
Flickerfest remains Australia's only Academy® accredited and BAFTA recognised short film festival, ensuring that it continues to present A-list short film programmes recognised amongst the best in the world.
A record 2300 entries were received for Flickerfest 2013, and only the top 100 shorts are selected in official competition, all handpicked to represent the most innovative, creative and cutting edge short films being produced in the world today.
Flickerfest Bangalow we will once again present an entertaining, inspiring and award winning range of selected highlights from the Sydney festival, many of which are world or Australian premieres, giving local Flickerfest audiences the first look at the hottest short films in the world today. The calibre of this year's program is undeniable with several films screening at some of the world's most prominent and revered film festivals including Sundance and Cannes.
Join us for a fabulous weekend of the best short films that the world has to offer.
Friday 25th Jan –
Opening Night Party + Best Of International 1 programme
7.30pm – The Flickerfest Bangalow festival will kick off with a fully catered Opening Night Party with drinks provided by our partners Little Creatures Brewing, Rosnay Organic Wine and Crystal Head Vodka and yummy catering from the Pantry 29 Bangalow. Enjoy music from local singer/songwriter and guitarist, Tim Stokes who effortlessly mixes and folds blues, roots, rock-country and folk into his own distinctive blend. You can hear natural beauty of the surf and soul of this area coming through his music.
8.30pm – Afterwards sit back and catch our Best Of International 1 programme with highlights including the delightful and whimsical Route 43 Miracle from Sweden, a humorous and bittersweet tale about a lonesome Swedish mans longing for something worthwhile the quirky and hilarious Herd Leader from Canada, winner of the audience award at Cannes film festival about Clara who is put in charge of her dead aunts pug dog. Little does she know that these are the first steps in and unlikely friendship and the beautiful and mesmerising animation Oh Willy from Belgium about Willy who when forced to return to his natural roots bungles his way into noble savagery. Also screening as a special feature of the night will be the Byron Premiere of locally made short Suspended, a heartfelt story about about Caleb who finds a world of magical possibility through his friendship with the blind man next door. The film officially selected for Australian competition at Flickerfest 2013 is written and directed by Award winning actor Damian Walshe-Howling, Suspended was shot on location at Murwillumbah and involves a cast of local actors starring alongside well known Australian faces including Damon Gameau, Ewen Leslie, Leeanna Walsman and Clare Bowen.
Saturday 26th Jan –
3 Sessions as follows
2.30pm – 'FlickerLab' Concept to Market: presented by SAE. Come and join us for an interesting and enlightening workshop on distributing your short form content across various platforms to audiences far and wide.
Panellists include Damian Walshe-Howling, who will share his experiences of the prestigious Locarno Film Festival where Suspended screened in Official Competition, ABC Open Producer Catherine Marciniak and Flickerfest Director Bronwyn Kidd. A must do for all keen film makers out there ! $10/8 conc (free entry for SAE students)
4.30pm – Byron All Shorts programme: Northern Rivers Short Film Competition supported by Southern Cross Credit Union & SAE Byron Bay; Sit back relax and enjoy a journey through the best of local storytelling as we present and screen the 5th year of Byron All Shorts, which showcases & celebrates the stories & talent of film-makers from our local region. This diverse programme of moving and funny documentaries and dramas includes Travis Hanley's 6 minutes with Lee Kirkman about a passionate BMX bike rider, the funny and quirky drama Beyond the Beak by Sam Ducasse, the moving and intimate doco My Mechanics Love Story by Michelle Eabry and the political documentary about CSG Gas War by Evan Malcom; plus a selection of local documentaries on the subject 'Day In The Life' created by community contributors in workshops with ABC Open. $10/8 conc
8.30pm – Best Of international 2 programme: Take a trip around the world and experience some of our most talented Best Of International 2 programme with highlights including the clever and satirical Its Not A Cowboy Movie from France, about some teenagers who reinterpret broke back mountain in a poignant and hilarious way, the moving drama Kiruna-Kigali from Sweden, shortlisted for this year Academy®Awards about two single mothers giving birth in extremely diverse circumstances one in rural Africa and one in affluent Sweden and the hilarious Life Belt Under Your Seat from Spain where the calmness of a Madrid to Miami flight is altered by Mauro who completely ignores the strict rules of flight etiquette. $15/10 conc
Sunday 27th Jan –
Byron All Shorts Awards &
Best Of Australian Shorts programme
8.30pm – Join us for the Byron All Shorts Awards, and discover the most talented local film makers who have taken out this years highly contested prizes.
8.45pm – Best Of Australian Shorts programme: A don't miss session, showcasing an impressive selection of home-grown talent from across the country selected from 5 Australian Short film programmes in official competition at Flickerfest Sydney. Highlights include Lois – starring Academy®Award nominated acting legend Jackie Weaver, which takes an ordinary women's story into the realms of greek myth, the quirky and highly crafted animation A Cautionary Tale about a little girl born with a peculiar quirk who must choose between conformity and self expression, starring the voices of David Wenham, Cate Blanchett and Barry Otto and the funny and slightly twisted black comedy The Captain by award winning filmmaker and stunt man Nash Edgerton. In exciting news the Flickerfest Best Australian Short Film Award has just become Accredited to the Academy ®Awards joining our international competition, providing exceptional opportunities for Australian film makers on the world stage.
The Flickerfest Blue Hawaii Café will be open from 7.30pm Friday & Sunday & 2pm Saturday, serving delicious organic treats & drinks.
BYRON ALL SHORTS 2013
Northern Rivers Short Film Competition
presented by iQ
Screening: Sat 26th Jan: Films Start – 4.30pm (Doors open – 4pm)
Awards: Sun 27th Jan: 8.30pm (Doors open – 7.30pm),
prior to Best Of Australian Shorts
Bangalow, A&i Hall
Prices: $10 / 8 conc (Byron All Shorts is also included in Flickerfest 3 day Festival Pass $50/40)
Running Time: 100 mins (inc intermission)
Children under 15 to be accompanied by an adult
'Byron All Shorts' celebrates the filmmaking talent of the Northern Rivers region and encourage audiences to experience the many amazing films & local stories that are produced in the region each year. 15 films were selected from over 50 entries region-wide.
This competitive programme will screen on Saturday 26th January 4.30pm at Bangalow A&i Hall; alongside the Byron Flickerfest 3 day screening's of the best of the worlds short films.
See & support our local film-makers alongside the best in the world.
Finalists selected for official competition
Byron All Shorts: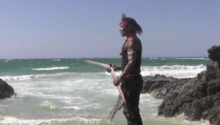 WE ARE WATER SPIRIT: 3min 2sec
Wri: Bunjalung Lewis Walker/Dove Joans
Dir/Prod: Dove Joans
A call for present and future generations to protect what's vitally important, our sacred oceans! The "Water Spirit" – connecting us as we journey with a Bunjalung elder sharing ancient stories of who we really are… with our ancestors from the sea speaking through the music, ocean waves, and the yidaki (didgeridoo).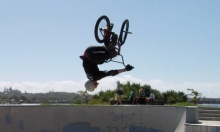 6 MINS WITH LEE KIRKMAN: 6min
Dir/Prod: Travis Hanley
Life revolving around one man's passion "BMX".
iQ & Flickerfest – Jury Award for Best Film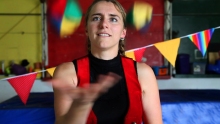 Day In The Life – CIRCUS MUM: 5min
Wri/Dir: Jemima Dunlop
Prod: Jemima Dunlop/Catherine Marciniak
Day in the life of a Circus Mum Juggle, juggle, juggle. Alice Cadwell shows us how she juggles running a community circus & being a mum, as we go behind the scenes during performance day for Spaghetti Circus. Alice says "sometimes it's tricky to keep all the balls in the air".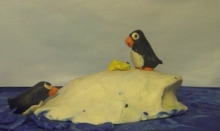 MELTING ICE: 1min 20sec
Wri/Dir/Prod: Mikayla Donnelly
'Melting Ice' is a claymation short with an environmental message.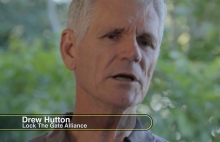 GAS WAR: 10min 55sec
Wri/Dir/Prod: Evan Malcolm
This short documentary addresses some of the issues caused by CSG mining in the Northern Rivers & Southern QLD.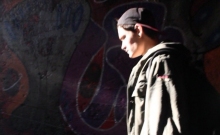 PERCEPTIONS: 5min 12sec
Wri/Dir/Prod: Elih d'Arcy
'Perceptions' is a visual monologue about a young man's need to reconnect and discard the pressures of society.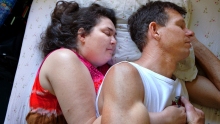 Day In The Life – MY MECHANICS LOVE STORY: 5min 15sec
Wri/Dir: Michelle Eabry / Prod: Michelle Eabry/Catherine Marciniak
This ended up being a very different story to the one photographer Michelle Eabry thought she was going to make. It started as a mini documentary about her mechanic who stays incredibly fit so he can look after his wife. But then she realised that the real story was a day in the life of Mick and Miranda's love story.
Byron All Shorts – Highly Commended by the Jury
intermission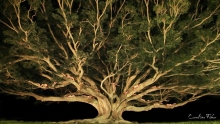 THE TREE: 8min 50sec
Wri/Dir/Prod: Caroline Fisher
This film portrays our impact on the natural environment, the infiltration of human beings on our planet. "The Tree" represents strength, protection, wisdom, eternal life, evolution, unity, re generation, a potent symbol of immortality, beauty, redemption, creation. A short art film, a reminder of birth, journey and resolution, using a majestic Moreton Bay Fig tree as a symbol and metaphor.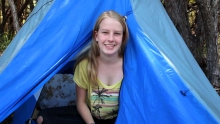 Day In The Life – EMU RESCUER: 5min 36sec
Wri/Dir: Kaitlyn Moocow
Prod: Kaitlyn Moocow/Catherine Marciniak
Schoolgirl Kaitlyn Moocow is worried that many endangered species will disappear before she's an adult. To raise awareness about this issue she documents a day in the life of an emu rescuer as they survey one of our local threatened species, the Clarence Valley Emu.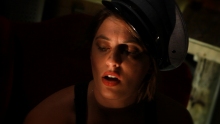 MELBOURNE TOWN: 4min 38sec
Dir: Oliver Buckworth/Melania Jack-Stevens
Prod: Melania Jack-Stevens
Music clip for Julia Rose's song "Melbourne Town".
SAE Institute – Jury Award for Emerging Talent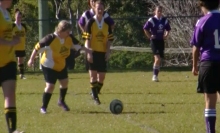 NOW I PLAY SOCCER: 1min 47sec
Wri: Sarah Stuart
Dir/Prod: Terese Van Twest
Sarah loves playing soccer & is the only player on her team that has a disability.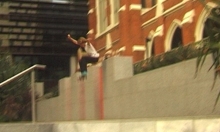 LIBERTE: 7min 56sec
Wri/Dir/Prod: Bibi Bradbury
'Liberte' is a documentary about skater's passionate pusuit to conquer the next challenge.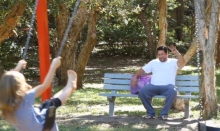 INDIAN ROPE TRICK: 9min 9sec
Wri/Dir/Prod: Romany Lee
Consumed by self-loathing, Tobias stands on a precipice. He has one decision to make – will it be the right one?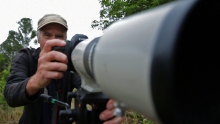 Day In The Life – PLATYPUS STALKER: 6min 10sec
Wri/Dir: Stephen Axford
Prod: Stephen Axford/Catherine Marciniak
Nature photographer Stephen Axford has a new obsession. He wants to document the lives of the platypus living in his creek but he knows it's not going to be easy. Join him for a morning stalking session and meet one of the weirdest animals on the planet.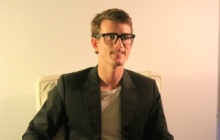 BEYOND THE BEAK: 6min 2sec
Wri/Dir/Prod: Sam Ducasse
'Amazing People' follows the journey of an amazing man, taking on a challenge through birds eyes. A story of sacrifice and courage.
SCCU (Southern Cross Credit Union) – Audience Award
Thank you to all entrants!
ABC Open "Day In The Life" entries:
For the past 6 months emerging filmmakers on the NSW North Coast have been documenting a "Day in the Life" of some of the extraordinary ordinary people in our community. As part of the Byron All Shorts celebrations we have curated the best of the local contributions. These projects were created in a series of one-on-one and group workshops with ABC Open North Coast Producer, Catherine Marciniak, in partnership with Flickerfest and Northern Rivers Screenworks. www.abc.net.au/open
Thankyou to our Jury: Damien Walshe-Howling (actor-director); Bronwyn Kidd(Flickerfest director) & Lisa O'Meara (Screenworks)
Flickerfest & Byron All Shorts is presented with the iQ, and is a fundraiser for the iQ Arts & Eco Reserve.
BYRON ALL SHORTS Northern Rivers Short Film Competition Partners
Thank you, your support is greatly appreciated & also supports our regions creative industries.
Cash Prize Partners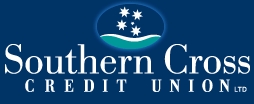 Creative Media Partner & Emerging Talent Cash Prize Partner
Industry Prize Partners




Media Partners





Production Partner