iQ PLATFORM
Mullumbimby Railway Station – Creative Hub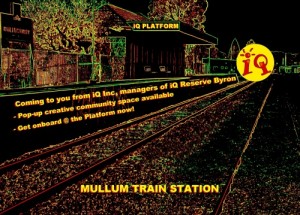 Recently iQ Inc also took on the lease of the Mullumbimby Railway Station. This building was badly neglected like many of the other stations along the former line, which are now nearly condemned. iQ Inc has now restored the building to create an innovative and exciting community hub for environmental, economic and social activity. We aim to demonstrate sustainable community practices whilst fostering local arts, environment, new industries and sustainable technologies, throughout our region. In turn a unique and diverse local culture will be developed. Together, our community shares this common vision and is engaged in an another ambitious enterprise, otherwise known as "iQ Platform".
The iQ Platform is available to community organisations at an affordable community rate; & has hosted a number of community activities. (eg. Byron Environment Centre; Mullum Music festival mentor workshops & Northern Rivers Social Development Council.
– iQ Inc host community participants that need to meet mutual obligations through Work for the Dole & Community Service Hours.
–  The station also provides storage & office space for iQ Inc; & other emergency needs in the community (eg. recently was used free of charge for the Flood Furniture Relief Hub.
ROOMS AVAILABLE FOR CREATIVE INDUSTRIES: OFFICE SPACE, WORKSHOPS, MEETINGS, EXHIBITIONS, ETC
Please contact for hiring rates.