BYRON GATEWAY
Concept Background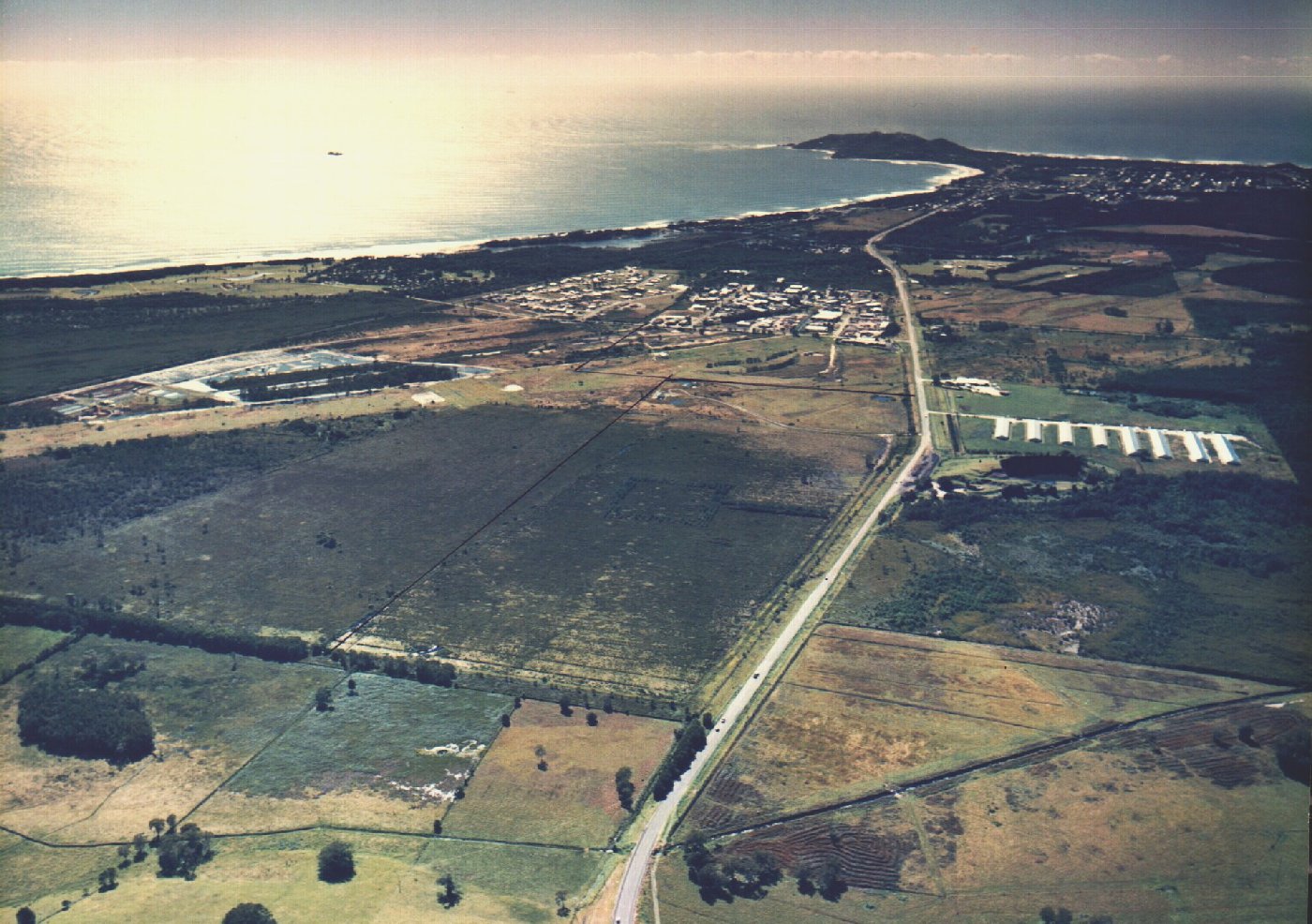 The Byron Gateway proposal answers a range of long-held community dreams for infrastructure and facilities to better serve tourists, businesses and residents in our Shire.
Ewingsdale Road is the main road into the Byron Bay town centre from the Pacific Highway. It also serves the rural community of Ewingsdale, the arts & industry estate, a residential suburb, some tourist and recreational facilities and several other small landholdings.
This proposal has arisen from considering Council's acquisition of Ewingsdale Road land adjacent to the Arts and Industry Estate on the northern edge of Byron and the potential facilities and management issues for neighbouring properties, business and community stakeholders and the amenity of both the resident and visiting communities.
The Byron Gateway proposal is an integrated project which aims to serve a range of community, business and tourist needs, with some components meeting multiple purposes.
Concept Outline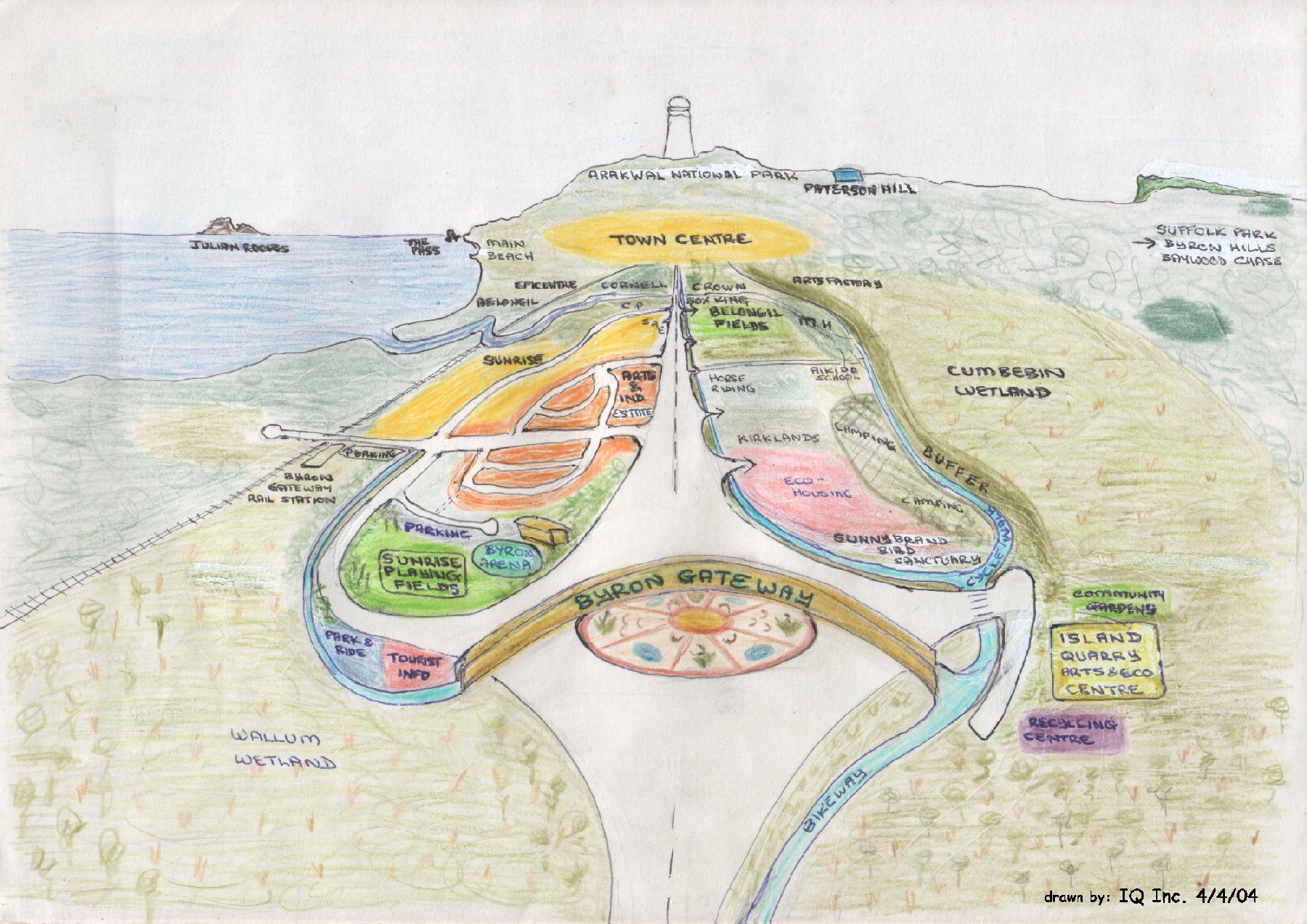 The Byron Gateway Project has several integrated components.
An access road connecting Ewingsdale to Bayshore Drive at or near Sunrise Boulevarde to service tourist and community facilities on Council's land and to improve access to Sunrise Beach.
Integrated development of Council's land, including:

wetland rehabilitation and buffer landscaping
a "Park and Ride" facility
a tourist information centre
a wetland interpretation area
picnic areas
playing fields and open community space
track / field / sports arena
an entertainment facility component capacity for large events needs for over 4000 patrons (events under that size would be more suited to the purpose built IQ Reserve; IQ Reserve could also held cater to larger events and associated activities on 249 Ewingsdale Rd)

A Roundabout (& footbridge) on Ewingsdale Rd between Council's proposed playing fields and Island Quarry to service access to IQ Reserve, Sunnybrand, the proposed BSC event/playing fields, & Sunrise Beach.
A Bikeways Network comprising:

Extension of the current Bikeway from the Town Centre to Belongil Creek along Ewingsdale Road to the Ewingsdale turn-off to increase both local and visitor use of bicycles and access to the new playing fields.
A pedestrian bicycle bridge over Ewingsdale Road between IQ & Council's playing fields
A Wetland Walk/Bikeway along the current 'paper' road around Cumbebin Wetland from the Gateway to the Butler Street Reserve, which would provide tourist education & experience and facilitate fire management.

Integration of proposed private developments and redevelopments along Ewingsdale Road, including: Belongil Fields, Sunnybrand, Lite-view Pty Ltd, Melaleuca Lane properties (Aikido School and B&Bs), Kirklands, the Arts & Industry Estate, SAE, Byron Van Village, and other adjacent landholders.
Community Consultation & Support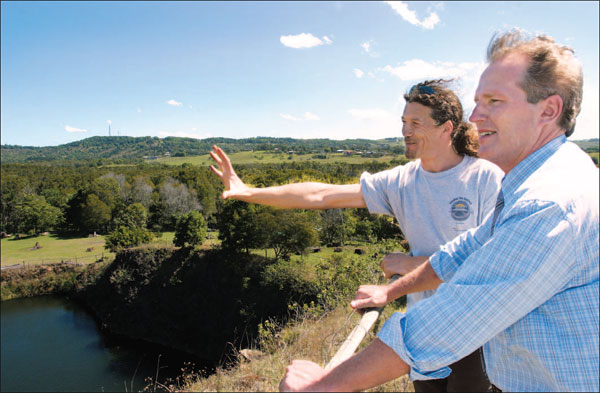 The proposal involves integrated multiple developments on both public and private land, with the formal/informal agreement of relevant stakeholders. The relative benefits to individual stakeholders vary, as do the contributions they can make to the Gateway project. The overall community and tourism benefits of the Gateway proposal have already attracted much interest and in principle support, plus over a million dollars in private investment interest.
State government departments and regional planning authorities support the proposal in principle.
Formal meetings are planned with all stakeholders to further develop the Gateway proposal and, to clarify and resolve issues arising from the proposal.
Stakeholders
| | |
| --- | --- |
| Landholders | Byron Shire Council, RTA, IQ (w/ Dept of Lands), Sunnybrand, Melaleuca Lane (Aikido School and B&Bs), ex-Kirklands, the Arts & Industry Estate, SAE, Katia Nursery |
| Accommodation | Byron Van Village, Belongil Fields, IQ |
| Residents | Ewingsdale Progress Association, Sunrise Residents Action Group (SUNRAG), Becton, and other neighbourhood landholders |
| Other community/sports field users | Little Athletics Association, Bikeways, Sports Assoc, BEC, Bay FM, YAC, Beacon, Blues Festival, Byron Writers Festival, Splendour, IQ. |
| Transport/parking | Blanches bus service, Byron Taxis, event & tourism operators / BSC, iQ. |
Problems the Gateway Helps to Solve:
Traffic Management
In peak tourist times, Ewingsdale Road is a 'bottle-neck', partly due to backed up traffic destined for the CBD which the proposed Town Centre by-pass may address. However, traffic destined to the Arts & Industry Estate, Sunrise Beach, or nearby tourist facilities on the northern side of town are frustrated by, and add to, this CBD bound traffic. Local businesses cannot deliver goods or receive supplies without lengthy delays, just to turn on or off Ewingsdale Road.
As an introduction to Byron Bay, tourists experience a crawling traffic jam through a littered waste land, starting with Council's gravel piles on RTA land outside Island Quarry, lined with industrial sites or small farm holdings with little interpretative signage and NO tourist information until they reach the CBD. The proposed CBD by-pass will not help tourists to "get their bearings" without the need to go into town for tourist information.
A tourist information and "Park and Ride" centre at the Gateway will give visitors a sense of arrival and welcome.
Event Facilities
The arena would serve local community sports activities with capacity to host regular annual events such as the Blues Festival, Splendour in the Grass and the Byron Writers' Festival, all of which will lose their current venues in the next two to five years. Other than proposed event facilities across the road at Island Quarry, no other suitable sites exist in or near Byron Bay.
Facilities to Encourage Sustainable Transport, Exercise and Sports
The Recreation Grounds in the Byron town centre are inadequate to support all sporting activities, with competing needs for winter football ovals and insufficient space for Little Athletics and informal public sports activities.
Increasing Byron's sportsfield capacity would provide:
Adequate sports facilities for local competitions and regional/national sport events (Little Athletics, Rugby Sevens etc)
Access to playing fields for informal recreation for Sunrise and Ewingsdale residents
Bikeways will reduce road traffic and provide tourists and locals with safe transport options.
There is also potential here to "rebrand" Byron as a healthy outdoor recreation destination to reduce the focus on "party town" labels, and encourage family visitors.