ABOUT iQ RESERVE
Introduction
Located at the gateway to Byron Bay, the Island Quarry is set on an eight-acre regenerated quarry site.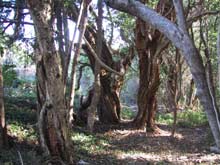 It boasts as its centre piece, a natural spring reservoir surrounded by spectacular 20-metre high rock walls. The site is bordered by wetlands and bush to the south and west, light industry to the east and by Ewingsdale Road, Byron Bay's main thoroughfare, to the north. The top of the site affords panoramic views of the Bay, Wollumbin (Mt. Warning) and the surrounding countryside. With dramatic aspects and grassy areas, this quietly spectacular site lends itself perfectly to a rich and diverse community based venture.
The Island Quarry Arts & Eco Centre is Byron Bay's most innovative and exciting community project. Our vision is to create a model for sustainable living through environmental, economic and social activity. We aim to demonstrate environmentally sustainable practices whilst protecting and enhancing the natural and scenic values. Island Quarry is fostering local arts, environment, new industries and sustainable technologies, whilst recognising and promoting valuable cultural heritage that relates to our region. In turn a unique and diverse local culture will be developed. Together, our community shares this common vision and is engaged in an ambitious enterprise, the Island Quarry, otherwise known as "IQ".
The Island Quarry is made up of its members, friends and volunteers from our local community. Our Centre is managed by a community-based association, the Island Quarry Incorporated, which has been appointed the Trustee.
Enriching our Community & Environment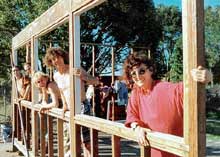 The IQ Reserve is managed by the Island Quarry Incorporation – a community based association who has been appointed as Trustee by the Minister. The concept of creating a state-of-the-art community facility is an enterprising project intended to develop facilities as an interpretive centre. This ambitious community-based endeavour is venturing forward to create an experiential arts & eco centre.
The Island Quarry, in time, will be promoted as a destination for Eco-tourists, dispensing information and educating on an extensive community level. Community facilities for cultural projects involving the under-employed, Indigenous youth and ethnic minority groups will be promoted within the umbrella of cultural events being held and promoted by the Island Quarry.
IQ is pursuing the utilisation of government, community & private funding to construct and operate state of the arts community facilities. This venture will increase employment and sustainability within the region. Research, development and implementation of ESD (Ecologically Sustainable Development) technologies and waste minimisation will be actively promoted providing wider community education.
IQ has the objective of recreating degraded sites as potential locations for regeneration projects using permaculture techniques & ESD principles, education and training programs, & working with the pool of local unemployed persons, to improve employment opportunities.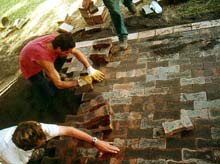 IQ Inc's mission is to create a facility demonstrating permaculture, endemic and botanic gardens, ecologically sound power and waste management systems, incorporating education and entertainment facilities, studio and office space, camping and worker's accommodation, workshops and recycling operations.
Creating History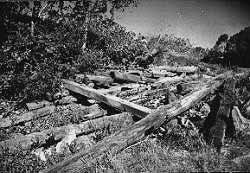 Abandoned since 1980, the eight-acre parcel of Crown land, was once a bluestone quarry. In 1989, it was revealed that previous interest in restoring and adapting the site, specifically as a sculpture park, had resulted in a land assessment by the [then] NSW Department of Conservation and Land Management which identified the Island Quarry's long-term 'preferred usage' for Recreation and Tourism.
The Island Quarry Restoration Project was formed by a small group of like-minded people in early 1995 with the vision to create a social and artistic enterprise in a wider cultural and tourist initiative. The old quarry site, became affectionately known as the Island Quarry – perhaps pre-empting its status as a community cultural "island".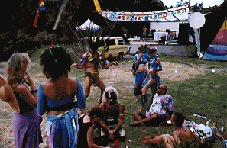 That same year, the NSW Department confirmed its assessment and further noted that:- "Council to achieve this result, is investigating the potential for use of the quarry site for landfill. While this is in accordance with the notified purpose of the reservation, the Department believes there is an opportunity to achieve both council's and the Restoration Project Group's aims. As such, close liaison between the Island Quarry Restoration Project Group and Byron Shire Council will be necessary. The Department strongly supports the use of the pool of unemployed local residents to carry out this rehabilitation work and develop the associated skills in the short term. This will be of economic benefit to both council and the local community. In the long term, the department believes that this association between Project group members and Council could be extended to achieve the overall development of the concept for the site through joint membership of a community trust which could be appointed to sustainably manage the land for recreation and tourist purposes."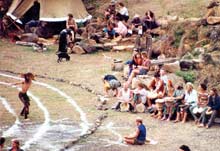 In February 1996, Island Quarry Inc. was set up to formally oversee the management of the centre.
In June that year, IQ Inc. was granted a five-year licence over the Crown land site by the [then] NSW Department of Land & Water Conservation. The event was marked by Winter Solstice celebrations – IQ's official opening. Later, in April 1997, the site was legally reserved in trust "for public recreation, environmental protection and tourist facilities and services".
The Byron Shire Council supported the project in principle and together with IQ, formed a working committee to consider issues such as rezoning and site development.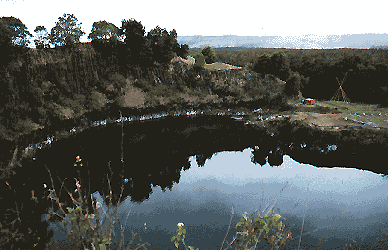 In 1998, IQ Inc. received approval for re-zoning to 1a (General Rural Area). Later, in July 1999, the Plan of Management was adopted by the NSW Department of Urban Affairs & Planning, Byron Shire Council and the State Minister for Land and Environment.
The viability of this project has been tested with numerous events being staged since IQ's opening. For example, over 2000 people gathered together on the site for Corroboree Day to celebrate National Reconciliation Day 2000 and recognise the local indigenous community, the Arakwal people.
Moving Forward – Development & Approval Process
In 2000, IQ Arts & Eco Centre lodged its Development Application resulting in a unanimous decision by Council to approve it (with deferred consent condition of gaining S138 approval from the Road Traffic Authority for a Type B turning lane to accommodate traffic for proposed activities) in mid 2001.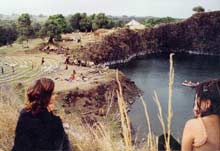 In July 2002, IQ lodged its S138 Development Application. Around the same time, IQ also launched its community insurance umbrella thus allowing more community activities to be covered by IQ.
In October 2003, with the blessing (and funding) of the Federal Department of Family and Community Services, IQ launched SCENE (The Sustainable Community Employment Network Enterprise). SCENE is a Community Employment Pilot developed by Island Quarry Inc. Naturally this is beneficial to both the community and Council.
In March 2004, IQ lodged gained full approval from Council for its S138 Development Application.
Presently we are planning, designing and developing a number of additional site facilities in accordance with the Development Application.
In recent years a number of Key Planning aims have been achieved.
Although, limited public access provisions currently apply to the Island Quarry while some key consent conditions are finalised.
During recent times the Trust has made substantial progress in addressing these conditions through constructing onsite works including: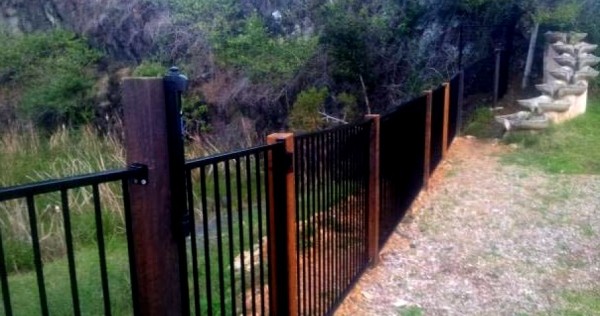 - Installation of a 350 metre long safety fence around the quarry waterhole.
(Installed early 2014; we received final sign-off on the waterhole fencing in Dec 2016)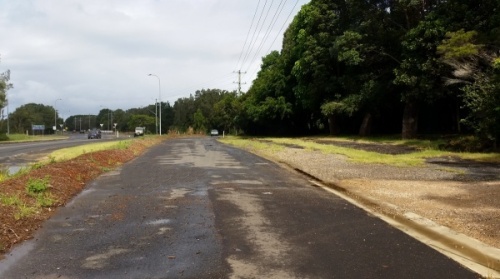 - Ewingsdale Rd access road-works, bike path & earth-bund landscaping as per Council approval (after numerous amendments) are all but complete; with a PRMF grant and much thanks with the earth-moving help from Civil Trak Excavations, See Civil & volunteers.
However the roundabout & our access is currently being reassessed as part of  a new larger roundabout being planned on Ewingsdale Rd.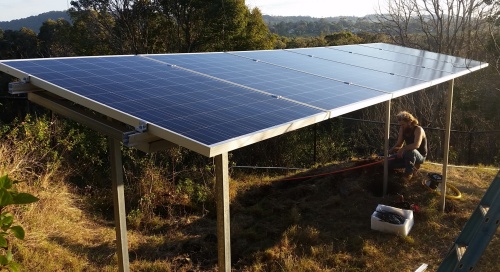 - We also installed of a 2 kW Solar Pumping system in 2016, with a PRMF grant & with the help of Blue Ridge Solar, Juno Energy, Trent Bailey Electrical & volunteers (the system supplies water to the flow-forms water feature that oxygenates the water-body; & also to supply water for the gardens)
– And, iQ Reserve fencing along Ewingsdale Rd frontage has been installed with the help of Poole Fencing Enterprises & a PRMF grant to assist with reserve management of safety and security and to reduce theft, vandalism and unsafe behaviour that had occurred in the past.
It is important to note that during this time, private activities and functions such as weddings, ceremonies, receptions, small workshops & film shoots are still able to be held on the Reserve, subject to application and approval by the Trust.
The Trust looks forward to a full re-opening of the Reserve to the public once all DA consent conditions for public events are completed.
In the interim, if you would like to volunteer or get involved in the community garden please contact us, or if you're interested in receiving occasional updates please send us an email with: 'Please add to iQ Updates' in Subject line.