11th Arakwal NAIDOC Week Screening
Presented by Arakwal Corporation, Flickerfest & iQ Inc
Tuesday 10th July, 6.30pm – The Byron Theatre
The Arakwal Corporation, Flickerfest & iQ Inc are thrilled to present an inspiring evening of aboriginal storytelling celebrating NAIDOC Week 2018 and this years theme 'Because Of Her, We Can' showcasing the lives & impact of Aboriginal women.
This year's programme curated from Flickerfest favourites will take you on a special journey with some incredibly funny, powerful and strong aboriginal women who's uplifting stories will inspire and delight.
The filmmakers have become some of the leading lights in indigenous filmmaking, blazing brightly on Australian screens and stage.
The programme includes, Warwick Thornton's multi award winning comedy short film 'Nana', two films by amazing writer/director & actress Leah Purcell 'She Say' & 'Aunty Maggie And The Womba Wakgun', plus 'Nan & A Whole Lot Trouble' & 'Hush' both delightful comedies by the very talented writer/director Dena Curtis.
Come along & enjoy these unique stories from incredible filmmakers championing aboriginal women through this years NAIDOC theme 'Because Of Her, We Can'; & support the celebration of aboriginal culture during NAIDOC Week.
A fundraiser for the Arakwal Corporation & supported by the Indigenous Coordination Centre.
Pre-purchase Tickets: at the Byron Theatre (Community Centre)
Online Tickets info: byroncentre.com.au |

 sold-out


Tickets also available at door: $10/8 con
More info: 0414 779881
11th Arakwal NAIDOC Week Film Screening Programme – 83min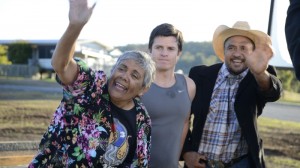 WELCOME TO COUNTRY – 10min
Writer/Director: Dean Gibson | Producer: Helen Morrison
When a hotshot public servant is sent to a remote Aboriginal community to prepare for t he Prime Minister's visit, he quickly learns the true meaning of Welcome to Country. starring Alec Doomadgee.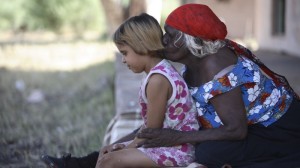 NANA – 6min
Writer/Director: Warwick Thornton | Producer: Kath Shelper
Nana's granddaughter thinks Nana's pretty special. She loves her Nana because she helps the old people, she's a good painter and other people love her too. Nana's got everyone under control.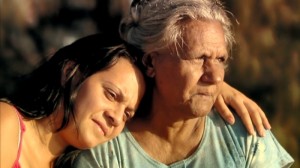 CUSTARD – 6min
Writer/Director: Michelle Blanchard | Producer: Kath Shelper
In her search for answers, a granddaughter's questions lead to the discovery of self and a chance to embrace the complexities of family.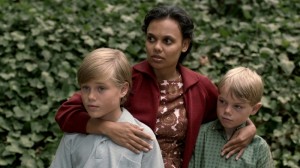 VOTE YES – 11min
Writer/Director: Nick Waterman | Producer: Melissa Beauford
It's May 27, 1967 – Australia's referendum on Aboriginal rights. Two women unite as a family come to terms with the prospect of change. starring Miranda Tapsell (The Sapphires).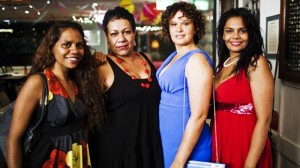 SHE SAY – 10min
Writer/Director: Leah Purcell | Producer: Bain Stewart & David Jowsey
After seeing her husband put in jail for domestic violence, Leela (Leah Purcell) has a big decision to make on his pending return, influenced by differing opinions from her two youngest children & her three best friends.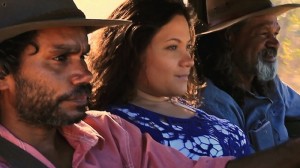 IN THE AIR – 13min
Writer: Dot West | Director: Kimberley West | Producer: Jodie Bell
Jealousy is a curse. She's her own worse enemy, jealous, impulsive, sabotages herself, awake or asleep, in snagging her man, who is a reluctant player when it comes to messing with his little piece of paradise.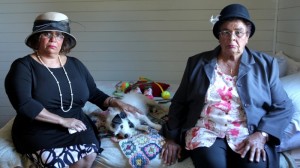 NAN & A WHOLE LOT OF TROUBLE – 11min
Writer: Sue McPherson | Director: Dena Curtis | Producer: Lois Randall
Nan, of Aboriginal and Irish descent, keeps a photo album of dead family members. Younger sister Min believes this morbid European tradition is culturally inappropriate. Told with warmth and humour, this short film tackles cultural taboos.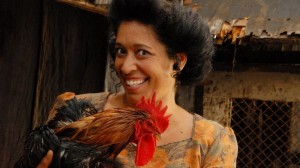 AUNTY MAGGIE & THE WOMBA WAKGUN – 11min
Writer/Director: Leah Purcell | Producer: Bain Stewart & Lisa Duff
Aunty Maggie & Uncle Peter struggle to feed their three nephews. The arrival of some chickens provides a new food source…eggs! When the new rooster becomes more of a headache and nearly dies, Aunty Maggie's quick thinking shocks the family and makes her famous.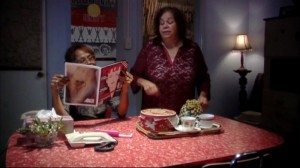 HUSH – 5min
Writer/Director: Dena Curtis | Producer: Kath Shelper
Ethel and her friend Mary resort to an unlikely occupation at night to top up their pensions. Ethel's daughter is horrified when she discovers they are not really "playing cards".
Come & celebrate aboriginal culture in NAIDOC week with a programme of amazing films.