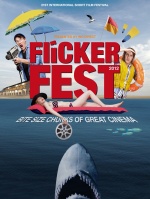 FLiCKERFEST 2012 prestented by ING DIRECT
21st International Short Film Festival
Australia's only Academy®Accredited, & BAFTA recognised short film festival
20th – 22nd  January 2012 – A&i Hall, Bangalow
International 1 on Friday night
(with Opening Party pre-screening drinks/nibbles & music by Renee Searles – starts 7.30pm)
International 2 on Saturday night
Best Of Australian Shorts on Sunday night
Doors: 7.30pm each night – Films start: 8.30pm
Running Time: (approx 100min each) MA15+
Prices:
Friday: $20/17 conc includes Opening Night Party with Jameson whiskey, Coopers beer, Rosnay organic wine & Phoenix drinks
Sat or Sun: $15/12 conc (each night)
Festival Pass: $40/35 conc
"Bite Size Chunks Of Great Cinema"
Celebrating 21 years of short film excellence Flickerfest Australia's leading short film festival will return to the Byron region for its 14th year in 2012 hosted by local organisers IQ Arts & Eco Centre, presenting another award winning programme of the best of Australia's and the worlds short films, all screening at Bangalow A&I Hall from the 20th-22nd January. Flickerfest remains Australia's only Academy®Accredited and BAFTA recognised short film festival ensuring that we continue to present a A-list class short film competition recognised amongst the best in the world.
A record 2200 entries were received for Flickerfest 2012, and a selection of the top 100 shorts were selected in official competition, all handpicked to represent the most innovative, creative and cutting edge short films being produced in the world today. This impressive and unprecedented number of contenders from all round the world confirms FLICKERFEST's reputation as Australia's largest and most respected short film competition.
Byron Shire is the first stop on our 37 venue National tour where we will be screening an entertaining, inspiring and award winning range of highlights many of which are world or Australian premieres, giving local Flickerfest audiences the first look at the hottest short films in the world today. For many films, the FLICKERFEST festival will serve as their world and/or Australian premiere whilst other films have already taken home some seriously prestigious prizes – the calibre of this year's program is undeniable with several films screening at some of the world's most prominent and revered film festivals including Sundance and Cannes.
International 1 programme highlights include two short films recently shortlisted for the 2012 Academy®Awards, the moving and humorous 'I Could Be Your Grandmother' (view trailer) from France and the intimate and heartfelt drama 'Raju' (view trailer) from Germany following a couples journey to India to collect their adopted child. Also screening is 'The Palace' a moving political drama set in Cyprus recently awarded the MNC award for Best Australian Short film at Flickerfest 2012.
International 2 programme highlights include 'Swimsuit 46' from Belgium, winner of the Special Jury prize at Cannes 2011, Sundance winner 'Brick Novax's Diary'; 'Steve' from the UK a humorous story of two neighbours starring Colin Firth and Keira Knightly and the hilarious 'Las Palmas' from Sweden awarded the SAE Best Digital Production at Flickerfest 2012.
Best Of Australian Shorts programme provides a platform that showcases our amazing Australian filmmaking talents. Highlights include the hilarious 'Fish & Chips' a story about a young Pauline Hansen who goes on Chef Of The Universe to cook against Barry, Kim & Vlad, AACTA awarded animation 'Nullarbor' (view trailer); the moving WA drama 'Crosshairs' & 'Cockatoo' a delightful comedy/drama starring Matilda Brown winner of the SMH award for Best Original Australian Screenplay at Flickerfest 2012.
Food & Drinks Available | BYO cushion for plastic chairs supplied (or bring your own special comfy one) | Arrive early for best comfort.
Tickets: Available at the door or,
Barebones Artspace (Bangalow-noBF) | Byron Music (+BF) | All Music and Vision (Ballina, Lismore.+BF)
21st FLiCKERFEST 2012

presented by ING DIRECT


  
Major Partners

Drinks & Food Partners
        
Byron Flickerfest, & Flickerlab are presented with the iQ Arts & Eco Centre, and is a fundraiser for iQ Inc.
FLICKERLAB BYRON BAY WORKSHOP 2012
Sponsored by SAE Institute & Supported by Screenworks
Saturday 21st January 2012
2.30pm-4.30pm
A & I Hall Bangalow (Station St)
Tickets only at the door (there will be plenty of seats available)
Direct from Sydney and our one-day intensive, taking place alongside our Flickerfest presented by ING DIRECT 2012 Byron Tour (20th -22nd Jan 2012 A and I Hall Bangalow), Flickerlab will present the latest trends, tips and skills that you need to develop your creative idea and turn it into a reality and to build a successful and sustainable career in the film industry. Flickerlab Byron will be bringing key industry practitioners to give you the most up to date insight into production and distribution routes for emerging filmmakers. Plug in for this intensive session and experience the knowledge and wisdom of our leading filmmaking experts as they take you on a journey through making your film idea a reality. This is a unique networking opportunity and a first-time chance to improve you knowledge and skills to achieve a successful and sustainable career in the film industry, presented by Australia's leading short film festival.
Flickerfest is passionate about supporting Australian filmmakers and providing career development initiatives and Flickerlab will now further formalise this commitment assisting Australian short filmmakers to experience the latest industry expertise that will assist them in their craft. Flickerlab Byron will be bringing key industry practitioners to give you the most up to date insight into production and distribution routes for emerging filmmakers.
Panel: Emma Moroney (Supervising Producer from Movie Network Channel), Bronwyn Kidd( Flickerfest Director), Kathleen Drumm (Screen Australia), Nerida Moore (Screen NSW's Senior Development and Production Executive) and Lisa Shaunessy (Chaotic Pictures)
Emma Moroney, Supervising Producer from Movie Network Channel. Emma is most recently responsible for acquisitions and management across Movie EXTRA Webfest an online competition offering filmmakers the opportunity to produce a 6 part web series in partnership with Screen Australia with 100,000 in investment offered to the winning series.
Bronwyn Kidd, Flickerfest Director, who is also in charge of Flickerfest short film distribution arm representing over 180 short films for sales across all platforms worldwide.
Kathleen Drumm, helms Screen Australia's diverse marketing activities across theatrical and innovative distribution, business facilitation, professional development, online and offline promotion and screen culture.
Nerida Moore, Screen NSW's Senior Development and Production Executive, Nerida assesses Development and Production Investment applications for feature film, documentary, television and multi-platform projects. Nerida also manages Slingshot, Screen NSW's suite of professional development programs. Prior to Screen NSW, Nerida lectured in Media and Communications across production, script writing and screen theory, and worked as a freelance script consultant, script editor and script assessor.
Lisa Shaunessy, Independent producer, she was formerly the Creative Executive at Hugh Jackman's Seed Productions, with feature credits as development executive that include Deception and X-Men Origins: Wolverine; as well as the television series An Aussie Goes Barmy, Bolly and Calypso for Fox 8. Now Head of Development & Production at Chaotic Pictures, a production company she established in 2009. At Chaotic Pictures, Lisa co-produced John Winter's feature film, Black White & Sex, and is currently developing several features films and television series'.
Taking place over 2 hours Flickerlab will cover the following areas:
Making It Happen
Behind every film is the producer/s, an elaborate and all consuming role that varies dependent on the focus of the individual. From creative producers, to hands on line producers, to executives- no two producers share the same approach. What they do share is the ability to pursue the macro whilst manage the micro, creative and financial muscle, and inexhaustible energy, drive and commitment to realising the film- they are the first person on, and the last person off. This discussion will follow the processes of development, financing, production and distribution from these producers perspectives, and offer alternative, unique approaches to source funding, as well as innovative new approaches to production in the age of the trans media storyteller.
Market To Market – Conquer The World
Distribution, Festivals and Multi-platform distribution
From Market to Market will provide insightful and practical guidance on routes to getting your film seen and maximising promotion of your film. This will include traditional distribution and festival strategies, as well as the innovative new opportunities and potentials of multi-platform distribution.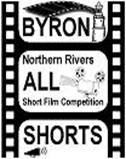 BYRON ALL SHORTS 2012
Northern Rivers Short Film Competition
presented by iQ
Screening: Sat 21st Jan Films Start: 5.00pm (Doors open – 4.30pm)
Awards: Sun 22nd Jan 8.00pm (Doors open – 7.30pm), just prior to Best Of Australian Shorts
Bangalow, A&I Hall
Films Start: Sat 5.00pm (Doors open – 4.30pm)
Tickets: $8 / 5 conc (also included in Flickerfest 3 day Festival Pass $40/35)
Running Time: 105 mins (inc intermission)
Session Rating: MA15+
The 'Byron All Shorts' competition will celebrate the film making talent in the Northern Rivers region and encourage audiences to experience the many local stories that are produced in the region each year.
This competitive local programme will screen on the 21st January 5pm alongside the Byron Flickerfest 3 day screening's of the best of the worlds short films.
Finalists selected for competition in Byron All Shorts are: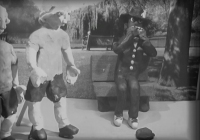 THE DUDE: 40sec
Dir/Wri/Prod: Bibi Bradbury & Jack Cawthorn (Year 11 Mullum High)
A claymation busker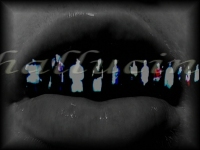 DREAM: 3min
Dir/Wri/Prod: Rhea Morrow (Year 12 Mullum High)
An experimental montage about the concept of a dream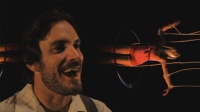 RIDE ON: 5:07min
Dir: O. Buckworth / Prod: Tim Stokes
An integration of music, songwriting, film, animation & dance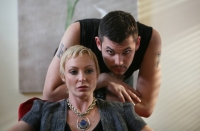 WINGS: 13:02min
Dir: Ly de Angeles & Victoria Sullivan / Wri: Ly de Angeles / Prod: Alex Tinley &, Ly de Angeles / DoP: Paul J Warren / Prod Design: Maggie Schreiber / Edit: Stefan van Jaarlsvelt / Sound Design: Tom Armstrong
The angel of death is the most misunderstood of all angels.
He attends sessions with a psychiatrist, seemingly depressed.
While still carrying out his eternal duties of attending death and helping souls with afterlife options he also dabbles in the odd cause of death.
Eventually he presents a radical solution to the psychiatrist: the surgical removal of his wings is the only way, he informs her, that he can have a 'normal' life.
In reality he gains great pleasure from his work and the reality is that the psychiatrist is on life support after a car accident and he is simply waiting for her.
The story was always all about her and the angel has been honest from the beginning.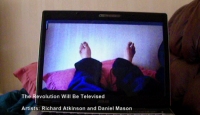 THE REVOLUTION WILL BE TELEVISED: 3min
Dir/Wri/Prod: Richard Atkinson & Daniel Mason
A video of how the revolution will be televised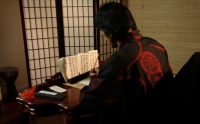 SAYONARA: 7:20min
Dir/Wri/Prod: Caroline Fisher
Bitter sweet drama depicting a day in a life of a traditional Japanese man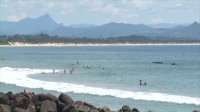 iQ-Flickerfest Jury Award for Best Short Film
THE COTTAGE: 12:44min
Dir: Lorraine Bell / Prod: Rani Willis
A doco highlighting the role of the Fletcher St Cottage plays in the lives of the underprivileged & the broader community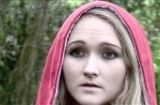 iQ-Flickerfest Special Mention of the Jury
FACE VALUE: 1:54min
Dir/Wri/Prod: Ellie Alford & Colin Mathers
A film about the potential dangers of internet predators
——-Intermission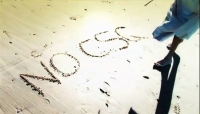 SEEKERS OF THE SUN: 4:36min
Dir/Wri/Prod: Louise Kahj / Edit: Brendan Shoebridge
Music video clip about coal seam gas mining with actors playing out work scenario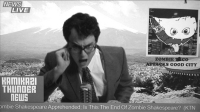 SAE Emerging Talent Award
ZOMBIE TACO: 5:26min
Dir/Wri/Prod: Max Quinn, Callan Brunsdon, Scott Sowter
A music video about the Zombie Taco
TEAHUPOO UNCUT: 9min
Dir/Prod: Simon Saffigna
The biggest, heaviest, scariest surfing session at Teahupoo Hawaii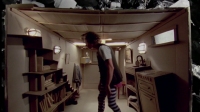 THINK OUTSIDE THE BOX: 1min
Dir: Stefan van Jaarsveld / Prod: Sai Frame
Think Outside the Box asks the audience to think again about their daily use of packaging, plastics and other non-recyclables. The consequences can be dire – "pay for the product… not for the packaging!"
HEAD FOR THE HILLS: 8:44min
Dir/Wri/Prod: Wendy Andrews
"Let yourself be silently drawn by the strange pull of what you really love, it will not lead you astray" ….a film that embodies THE WORDS OF 13th century sufi poet Rumi'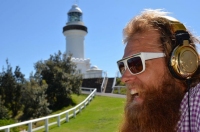 Essential Energy Audience Award
SHALL WE DANCE- The Tommy Franklin Story: 18:57min
Dir: Kurt Mayes / Prod: Kurt Mayes & Travis Hanley
A doco about Byron Bay's own "Dancing Man" Tommy Franklin
Films Total Running Time 92:45min
The jury for the Byron All Shorts competition is Emma Moroney (Supervising Producer from Movie Network Channel), Nerida Moore (Screen NSW's Senior Development and Production Executive), Lisa Shaunessy (Independent producer, she was formerly the Creative Executive at Hugh Jackman's Seed Productions) & Bronwyn Kidd (Documentary maker and Flickerfest Director)
BYRON ALL SHORTS Film Festival Partners
Cash Prize Partners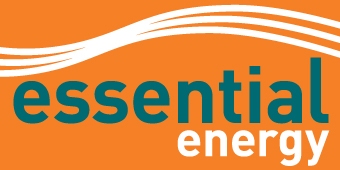 Creative Media Partner & Emerging Talent Cash Prize Partner
Industry Prize Partners




Media Partners





Restaurant Prize Partner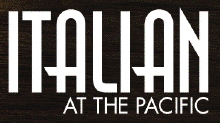 Byron All Shorts is presented with the iQ Arts & Eco Centre, and is a fundraiser for iQ Inc.
See & support our local film-makers alongside the best in the world.